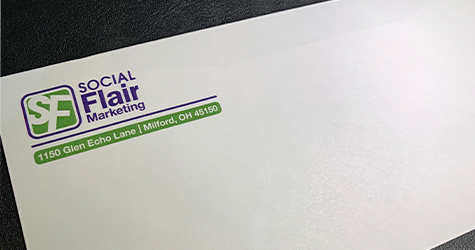 Envelopes: Get In Front Of Your Customers Repeatedly
6/21/19
Envelopes might not be the first impression a customer has of your business, but it is certainly an on-going one. Many companies send out monthly invoices, newsletters, statements and even personal notes. These forms of correspondence are mailed within an envelope.
When it has your logo and branding on it, it becomes a repeating opportunity for getting your brand in front of your customers and prospects.  When an existing customer receives one of your envelopes, it creates instant recognition.
If you're not sure where to start, read on.  We walk you through the basics below.
Design
Minuteman Press Beechmont can assist you with the design of your envelopes. We can create a fresh new look that will show off your logo with style. Or we can update an existing design so it grabs the attention of the recipient.
For newer businesses that might not have a logo, or a company that is re-branding, we can also develop a new logo design for you.
Colors
Studies show that vibrant, full-color envelopes are far more likely to be opened than standard envelopes with black printing. We have the unique ability to print "full bleed" envelopes.  This means that the color can be printed from one edge to another.
Envelope Types
You can order envelopes in a multitude of colors, sizes and paper stocks.  For businesses, the most popular varieties are the No. 9 and No. 10.  You can get that envelope with or without a window.  Having one allows the recipient's address, printed on the correspondence inside, to be viewed on the outside.
But some businesses want something different.  We can provide every type of envelope you can think of and in custom sizes. From small donation envelopes to 9" X 13" catalog and booklet envelopes.
You can also choose the type of seal you want: Traditional seal, peel-and-stick or flip-stick.
We can also help address envelopes with our variable data capabilities.
Binding It All Together
Your monthly correspondence represents an opportunity to remind your customers and prospects about your brand.  Don't waste that opportunity with a plain white envelope and a hand-written return address. Have your logo jump off the surface and serve to be a repeating reminder for your company.
Want to learn more about how you can have branded envelopes? Call Minuteman Press Beechmont today at 513-474-9500.