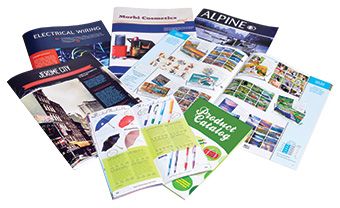 Booklets and Catalogs: Making Your Offerings More Memorable
5/14/19
While Minuteman Press Beechmont offers a wide array of print items and promotional products for your business, traditional printing is still very much a part of our company's DNA. These traditional items include envelopes, stationary, brochures and booklets.                          
Booklets Make Your Offerings More Sticky
Does your company have multiple products or services?  Then you're probably looking for ways to highlight them together.  While a website is the most logical place to start, there's also a real world method to make your offerings memorable.
A booklet in the form of a catalog has staying power.  It's actually held in the hands of your prospect.  That adds a tactile sensation to that person's memory, making your product or service more sticky.
A catalog will also be laid on a table, bookcase or desk.  It will become a reminder that an order needs to be placed for your products or services.
Creating a Catalog
Developing a catalog is nothing new for Minuteman Press Beechmont.  We can produce them in a variety of sizes and styles, all with customized designs and functions that fit your needs.
Read below to learn about some of the different options you need to consider.
Paper Grades
Paper grades…paper weights…paper stock?  Are you wondering if you should use 20-pound bond or 80-pound gloss text for your booklet?  All the options can be very confusing.
Worry not!  We are experts in the field of paper types and weights and can advise you on the best paper to use for your project. We carry a wide range of bond, text, gloss and accent stocks. Minuteman Press can also print on the heavier stocks used for catalog covers and business cards.
If you're not sure what to choose, you're not alone. Many of our customers stop by our store to touch and feel the different options. We recognize the huge impact paper selection has on the overall quality of the finished booklet. Minuteman Press is here to help you find the right stock for your project and budget.
Catalog Sizes
Catalogs can be printed in whatever size you need. Three of the most popular options are:
·      5-1/2-inch X 8-1/2-inch
·      8-1/2-inch X 11-inch
·      11-inch X 17-inch.
Bindings
Depending on your project needs, catalog size and budget, there are six different options available for binding your product.
Three-Ring Binding                       
This is the simplest form of binding. It involves punching holes into the pages so they will fit into a 3-ring binder.
Spiral Binding
Wires or plastic in a spiral form are threaded through pre-punched holes pattern at the edge of the sheets.
                        Plastic Comb Binding
This form uses a tubular plastic piece similar to a straw that is cut long ways.  One of cut edges of that tube has teeth that match pre-cut holes on the sheets. The teeth are threaded through the holes and are then tucked into the tube.
                        Saddle-Stitch Binding
Pages are laid out in order and then folded.  Staples are used through the center crease to hold them together.
                        Perfect Binding
This technique involves using glue on the outside edges of the pages to hold them together and create a flat edge.
                        Case Binding
The edges of the pages are sewn together and then attached to a hard cover.
Binding it All Up
Creating a catalog to showcase your products and services is a great way to make your offerings memorable to you prospects.  Being creative when you select the grade of the paper, page size and binding will help you produce a booklet that your prospects won't forget.
If you want to learn more about developing a booklet or catalog for your business, call Minuteman Press Beechmont today at 513-474-9500.